Boo Coachella, Yay Sasquatch!
Although we haven't 100% definitively dismissed Coachella, we're at about 98%. When I last posted about this, there was the possibility of travelling to Indio for the first day of Coachella, mostly to catch Bjork & Interpol. Now, thanks to the Sasquatch Music Festival, I won't need to.
Sasquatch is a music festival that that takes place every Memorial Day weekend here in Washington. It's held at one of the most beautiful venues I've ever been to - The Gorge, about 2.5 hours east of Washingtion. It lies on a big hill on the edge of the Columbia River - check it out: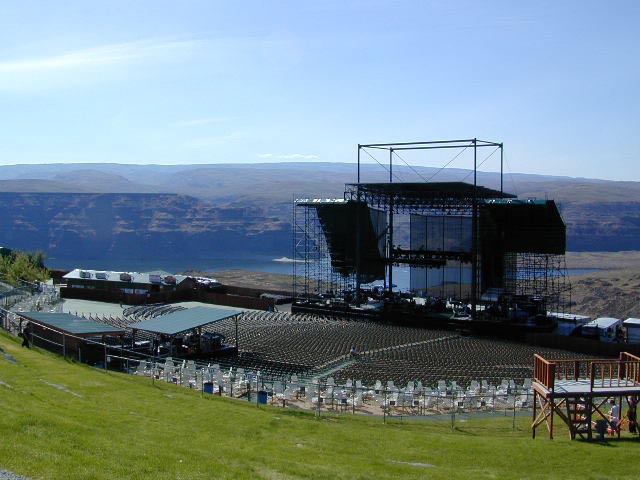 This year's lineup, although not as action packed and eclectic as Coachella's, is probably better suited for our needs:
Saturday:
Bjork
The Arcade Fire
Citizen Cope
Grizzly Bear
Ghostland Observatory
Aqueduct
Viva Voce
Sunday
Beastie Boys
Interpol
Bad Brains
Dandy Warhols
Minus The Bear
Overall, I think Sunday's lineup is much weaker. I'm leaving off a bunch of other bands that I'm not as interested in like Manu Chao, Spearhead, Spoon, and a bunch of other lesser acts, but maybe I'll end up enjoying those acts as well. But for less than the price of a trip to the 1st day of Coachella, I'll be able to enjoy this whole festival, and I won't have to spend the whole day in 100 degree heat! Bonus!
______________________________________________________________
Not much else is going on up here in my little part of the Pacific Northwest. We spent out three day weekend (thanks Presidents!) filled with equal parts action and inaction. I went out drinking with a friend on Friday night while Wac rocked her balls off at the Tenacious D concert. The night didn't end too well though. I tried to catch the bus back home only to discover that it stopped running by midnight. With a dead cell phone and an unwillingness to shell out $15 for a cab, I got home the only way I knew how: by foot (for my Seattle readers, we're talking Broadway & Pine to Lower Queen Anne, Ozzie's area). I finally made it home about an hour later.
Saturday, we had a nice little Saturday planned. Stopped by Home Depot, and yes, Bed Bath & Beyond as well. Picked up some nice bath towels and a bath rug which the big kitty really enjoyed. At least that's how I interpreted his act of urination. We started all this with breakfast in Madrona, a quiet neighborhood near the west bank of Lake Washington. We then capped things off with a trip to Fred Meyer for some groceries and more bathroom accessories.
For the folks back home in AZ, remember how Fred Meyer tried to open up some stores in the Phoenix area? I know the Fry's on McClintock and Baseline was a Fred Meyer for a short period of time. Anyways, it wasn't that impressive, was it? Well, the Fred Meyer up here blows all that away. It's like it combines the decent quality and assortment of Target with the price and selection of Walmart, but without the ghettoness factor. The best way to put it - does anyone remember Smitty's? Specifically the one on Stapley and Brown? It's kind of like that. I miss Smitty's. That was one kickass grocery store.
Anyways, I had some free time while Wac went out to dinner with a friend, so I caught most of the NBA Dunk Contest. Some observations:
1. Yes, Nate Robinson has hops for a little dude. But he didn't deserve to win it last year (Andre Iguodala's dunk is probably the most incredible dunk ANYONE will ever see - check it out
here
) and he definitely didn't deserve to be in the finals this year. It's bullshit that someone can miss a dunk 10 times in a row before finally getting it and still move on. Which brings us to point two:
2. Dwight Howard got ROBBED. The dude reached up to 12.5 feet on the backboard, stuck a sticker up there, then threw it down. And he did this dunk because the NBA refused to let him raise the hoop to 12 feet for a dunk. We're talking about one of your future superstars, a player who throws it down with Shaq-like ferocity, and not only do you not accomodate him for what would have been an amazing dunk, he doesn't even get recognized for his creativity and circumventing ("the ol' reacharound") the NBA's retardedness. Simply put - he got shafted!
3. Gerald Green deserved to win this. He was the most consistent, he was original, and we was the most entertaining. The whole homage to Dee Brown was awesome, although it should be noticed that he peeked at the end - Dee Brown didn't peak.
We ended the night by watching The Science of Sleep, to which I decided to conduct my own experiment 15 minutes into it and fell asleep myself. We watched it again on Monday and it's a good movie, just not the right movie after a busy Saturday afternoon.
Sunday - TV, TV, TV, TV, TV, Saw the Shins in concert, had some late night Dick's (AZ folks - Dick's is a burger joint. I'm telling you, I'm not gay!) All in all, it was an overly lazy day, and it was perfect.
Monday, we headed over to the gym to make up for our lazy Sunday, then headed out to TGI Friday's for dinner to make up for going to the gym earlier. Green Bean Fries are the shit. Cinnabon cheesecake is the shit. However, their grilled Mahi Mahi is just shit.
_________________________________________________________
Oh, BTW, for what's it's worth, I'm sick of hearing about Anna Nicole Smith. She had big breasts, she married a billionaire, and she got fat and acted more stupid than she really is just for the sake of her reality show. Her son's death - tragic. Her death - not surprising. Both of their deaths - mean nothing to me. I don't care who gets her money or how she died or who the baby daddy is. As you can see, I already know more than I want to about this whole ordeal. I'm done with it. Let's talk about something else instead, like
how ugly Carrot Top in a basketball jersey is
. The dude is built, though.